THANK YOU FOR DONATING! FINAL TALLIES COMING SOON!
WAC Family Giving: Click here to donate online now!
WAC COIN WARS!: Click here to donate online now!
WAC Grand Friends: Click here to donate online now!
On September 20th, we will kick off our fall fundraiser! W-A-C, write a check, was introduced a few years back because it enables Tanglewood to keep all of the profits and it is FUN AND EASY! WAC is only one week!
We are excited to announce the opening of three new spaces/programs this year – all 100% funded by the Tanglewood PTA! The Think Tank (a STEAM lab), Outdoor Learning Center and a Spanish Classroom!
Each year, the Tanglewood PTA (not FWISD) funds enhanced curriculum, field day, carnival, sports equipment, technology, extra security, visiting author programs, and artapalooza…just to name a few. In fact, the PTA contributes approximately $400 PER CHILD in recurring expenses per year! This does not include the special projects funded by PTA annually. That is why we need your continued support to enable our PTA to be able to offer these necessary items plus all the "extras" each year! And yes, your donation is tax-deductible!
Information about this year's campaign is below! Please contact The WAC Team with questions.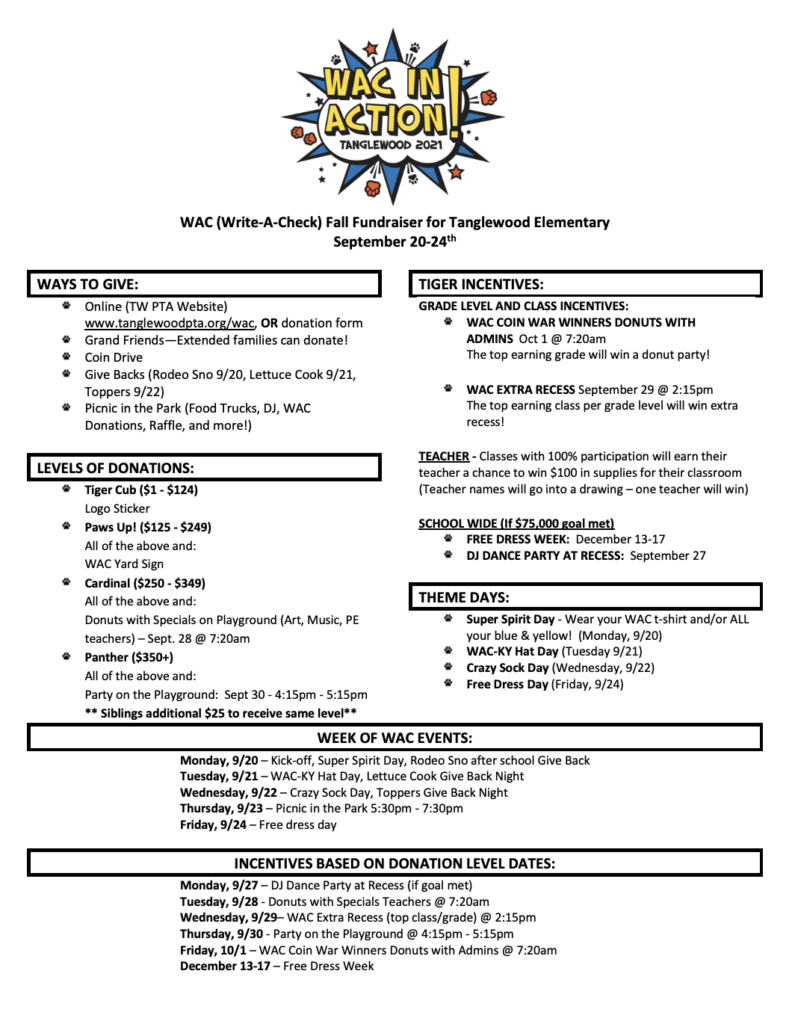 WAC Donation Meter